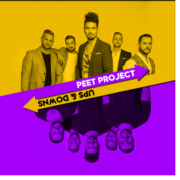 New album is now available!
Az új album már elérhető!
Pop-Funk-Jazz a "budapesti rosszfiúktól"
2022.04.23-30. - Sandy Shore's JazzWeekender Tahiti Cruise hosted by Nathan East
Tickets and more: https://jazzweekender.com
2022.10.15-16. - JazzTrax Jazz Festival, Catalina Island, Los Angeles, CA
Meet with us! // Találkozz velünk!
Sign up for our newsletter! // Iratkozz fel a hírlevelünkre!